BE THE MAGNET – PART 1: NUGGETS FROM REVEREND SAM ADEYEMI'S TEACHING
DMC NOTES: It is with great Pleasure in our heart to welcome you all to the commencement of another Series titled:
"BE THE MAGNET" by the Motivational Speaker Reverend Sam ADEYEMI.
God sparing our lives, we have in Store for you five (5) "Thrilling Parts of this Series" which we hope to rum every Fridays up to the next four (4) weeks!
… From our desk, we wish you all a happy sail with us as we Journey together on this Series!
The Law of Magnetism works with Human Being – We have the capacity to Attract, we have the capacity to Repel.
It is remarkable how People would be tired of Poverty but would repel Prosperity because they do not realised that they are Magnets.
You know it is Negative but they are inside Poverty but they want to attract Prosperity – Makes it a frustrating experience.
And then what makes it more frustrating is when you see how easy it is for someone or other People to Prosper; then it all seems like life is not fair.
Well, some other People thinks that things aren't working.
When you understand the "Principle of Success" and you applied them; you will discovered that you have the capacity to create your own luck.@sam_adeyemi#BeTheMagnet
Click To Tweet
You create your own Success through Obedience, through Alignment to the Principles that create Success.
You and I are "Living Magnets" – We have the Power to attract and we have the Power to repel.
We have tried to identified the Properties inside of us that give us this capacity to attract and to repel. And we have also identified our Thoughts and our Emotions.
Your Thoughts are Powerful Ultimately!
You attract the Material equivalent of Physical equivalent of your Most Dominant Thoughts.
By altering your Thoughts; you can alter you life.
By changing your Thinking; you can change your life.
… You just change your capacity to attract.
It is remarkable!
Once you understand this Principle; then there is something you do for a lifetime by Putting more Power in your Magnet.
We identified the Need for us to read, listen to Audio Programs, watch Video Programs, attend Seminars, watch your Associations and to have Mentors.
That's it!
You do these things consistently for the rest of your life, you will add more Magnet to your Power everyday for the rest of your life and it means that everyday will not leave you the way it met you.
Your life will get better and better. You will rise higher and higher.
You know some People are afraid that they can't go up and then come down, that they can't Progress and then regress, that they can't go Forward and then come backward because they have seen other People's example.
But I say to you when your life is built on Principles; things don't Change Permanently on the Negative for you like that because Principles never Change.
Principles never change, so your Success never change – You rise you are not coming down!
Also read: The pursuit of Success, Rev Sam Adeyemi's Teaching
This is the lesson I have learnt thinking about us as Magnet!
What you don't have the Power to attract you don't have the Power to retain.
That is the challenge there!
That you don't even have the Power to attract it in the first place, it only happens by chance – That object is close to you.
The likelihood there is that – You won't be able to keep it or to retain it.
You get the Promotion that you have no capacity to handle, it means you may not be able to keep it for a long time.
You came across Money that you don't have the capacity to manage or handle, it means when that money is gone as you don't have the capacity to reproduce it.
But you see, if you put more Power in your Magnet; when the object is removed, you have the Power to attract another one if not the same one.
So, this Principle helps us to build "Sustainable Success" for a long time.
You and I are "Living Magnets" – We have the capacity to attract People, to attract Opportunities, to attract Material Resources, to attract Financial Resources.
This is one of the illustrations that I gave to People sometimes and they find it humorous.
I tell them imagine: Angel just fly into the room and touched my head and then there is light all around me for like two (2) or three (3) minutes and then it's all gone.
Suddenly, I have changed into the Head of the United States or the Prime Minister of the United kingdom or I have become the President of my Country or your Country.
I ask: Will your attitude towards it change?
Yes – And then I tell them imagine: Whenever the President of the United State disappeared and then they are searching for him and then find out where he is.
What do you think will happened if they get to know where he is?
And I tell you that in everything that you normally found around in; the Airforce Protocol will begin to move in the direction where they knew he is now.
And I say that to illustrate one (1) thing that – The Human Being is the Magnet to attract everything else.
Also, if you change your Thinking, your circumstances will change.
If you change, People's attitude towards you will change.
If you change Opportunities will show up for you.
If you change Resources will move in your direction.
I know that the illustration I gave is simplistic and it doesn't happened like that in the real life.
However, there is a consolation in one fact the President of the United States or the Prime Minister of the United kingdom or the President of your Country were not born the way they are – They became like that.
I think one of the greatest thing we Human Being should be happy about is the fact that we have the capacity to Change.
When we grow and we change, we will attract the Resources, Human Materials and Financial Materials like we have never attracted before.
Change your Thinking!
Changing your Thinking is going to be a fight, it is going to be warfare but listen to me when you win inside – You will win inside and outside. You breakthrough on the inside you breakthrough on the outside.
Now, one of the very important things you can do to change your Thinking is for you to learn to Set Goals with Deadlines.
This is very important!
Set Goals – That higher level. Set a Goal for it and give it a Deadline.
You know why I'm saying this is because there is a way the Human Systems are designed to work and it responds to Goals and Deadlines.
The Human Systems respond to definiteness of Purpose.
Someone said: Nothing becomes Dynamic until it become Specific.
There is Power in Defining, in Specification, in Quantifying.
It is not enough to say: I want more money – When you say how much; your Systems works better than to just say I want more money.
When you now give a Deadline, for example, you say I need ten thousand dollars ($10,000), then you give it a Deadline in seven (7) days; your Systems opens up like a radar.
You see: You don't have all the Answers, you don't have all the Solutions but God will transmit answers to us.
Your Systems opens up to pick up "Creative Ideas"; "Innovative Ideas" by Intuition.
Even if your mind kicks against it, begin to arrange and rearrange the information and the Knowledge you have stored before to create a Solution.
I always tell People of a Profound Solution which I read in a book titled: "Think And Grow Rich" by Napoleon Hill.
One Reverend father was bothered about the state of Education in Illinois in the United States of America.
He made up his mind that he is going to build a School.
For two (2) years; he was saying it – If I had a Million dollars ($1,000,000); I would build a School.
One (1) day the question just came to him: "When am I going to get the Million dollars ($1,000,000)"?
And somehow he made up his mind in the next two (2) weeks, I will find a way to raise this money.
He said it was like everything was waiting for him.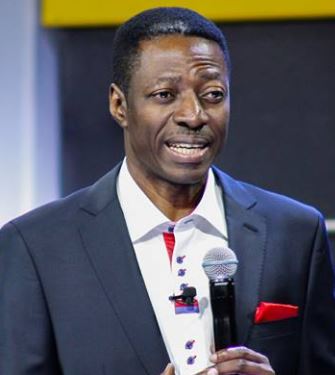 He made up his mind because that instant his Systems opened up – Ideas begin to come up to him.
Then he got this interested idea to meet someone.
So, he sent a note to the Editor of the Newspaper in a City to Preach a Sermon on a Saturday.
Now, his experience came on Friday.
He had the noticed on the Newspaper first on Saturday.
On Sunday, he went to the Church; Preached that Sermon: "What I would do if I had a Million dollars ($1,000,000)"?
The moment he finished that Sermon and sat down; a man stood up from the back of the seat with his hands on his head and said sir: I believed you would do what you said you would do if you had a Million dollars ($1,000,000)?
This is my Business Card – if you would not mind Reverend coming to my Office on Monday – I will give you a cheque of one Million dollars ($1,000,000).
My name is Philip D. Hammond.
Wao!!! – Friday he made up his mind and gave it a deadline. The ideas began to come.
Monday he got a cheque of one Million dollars ($1,000,000).
He built the School, he named it Philip D. Hammond Institute of Technology.
Today, it is known as Illinois Institute of Technology!
Remarkable!
Who was it that Changed everything? – The Deadline!
And do you know that I have done that countless of times.
In the last twenty (20) years; I set a target (Financial Targets) – I gives it a Deadline (An amount of money you know that I don't have access to).
I remembered the first time I took a Cheque; wrote my name on it and the Deadline was one (1) year.
Oh my God!!
You know why I will come on Television and be teaching these Principles all over the world?
The truth of the word is that I have Practised them with results to show for them.
One (1) year I wrote the cheque; I stacked it in my bedroom in a diary and thereafter every incomes that comes to me was exactly the same money I wrote on the Cheque.
I do not have to tell you I have written several Cheques there after because it works.
ABOUT THE SPEAKER
Reverend Sam ADEYEMI is the Senior Pastor, Daystar Christian Centre.
He is also the President of Success Power International, an NGO that among others things specializes in Organizing Financial, Leadership and Motivational Seminars and is President of Daystar Leadership Academy, a leadership School for Business Owners and Ministers of the Gospel.
To read other Messages on the Coverage of DMC MediaCrew so far this Year and beyond; kindly visit our Website: http://discoverymediacrew.com.
Follow us on Twitter: @discoverymediac
Send a Friend Request on Facebook to DMC MediaCrew.
Like our FB Page: Discovery Media
Join us on WhatsApp:
https://chat.whatsapp.com/D20e9cqYX1LKKPm9n93K4h
Join us on Telegram: https://t.me/joinchat/NzzPckuGazKYFxZZFkt9fg
Follow Us on Instagram: Discoverymediacrew
Watch and Follow Us on YouTube: Discovery Media Crew
For Enquiries, email Us on: info@discoverymediacrew.com
And I can assure you that you will be glad you did as it will avail you first hand access to comprehensive reports on the various Messages of Pastor E.A Adeboye and other Men of God!
DISCOVERY MEDIA CREW, REACHING OUT TO THE WORLD THROUGH THE POWER OF THE GOSPEL!
Yours Always,
MOSES DURODOLA, TITILAYOMI AJAYI AND AYODELE OLALEYE.
DISCOVERY MEDIA CREW.
©DMC 2020.